Dit is een vertaling van het gelinkde artikel geschreven door Rick Falkvinge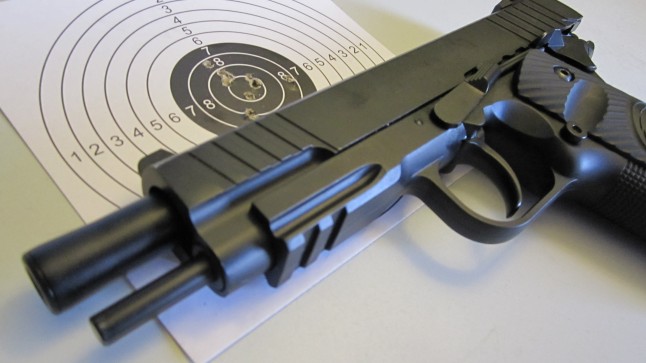 Terwijl ik keek hoe de duivelse wetten genaamd SOPA, PIPA en NDAA de DMCA en Patriot Act opvolgen in de Verenigde Staten, realiseer ik me dat de ergst denkbare situatie voor burgerrechten zich begint te vormen.
Het interne doel van de Piratenpartij is voor lange tijd al dat het onze taak is om te voorkomen dat Europa in totalitair fascisme vervalt. De V.S. is verloren; het is al voorbij het punt waarna je niet meer terug kan. Onze taak is om te voorkomen dat Europa trouw de V.S. volgt, en dus de sterke connecties op tijd te verbreken. Het was 5 jaren geleden al waarschijnlijk, en is nu schrikbarend duidelijk.
PIJNLIJK ARTIKEL
Dit artikel kostte mij 24 uren om te schrijven, na een week van diep nadenken. Gewoonlijk kost het me 30 tot 45 minuten om een artikel te schrijven, zodra ik weet wat ik wil zeggen. Het probleem hier is niet dat ik niet weet wat ik wil zeggen, maar dat ik juist teveel wou zeggen. En ik wist niet hoe ver ik durfde te gaan. Uiteindelijk heb ik besloten om me niet in te houden, maar om mijn gedachten open en bloot te leggen. Er is een goed gezegde over dit onderwerp, gebruikt door velen:
Vrijheid wordt verdedigd met 4 dozen: Zeep, Stembus, Rechtsgang en munitie. Gebruik het in die volgorde.
Gezien dat dit naar het Nederlands vertaald is, zal ik moeten uitleggen wat de Amerikaanse woordspeling hier is. Deze woordspeling viel echter niet goed naar het Nederlands te vertalen. Deze '4 dozen' zijn niet gelijk duidelijk voor iemand die niet Engels als moedertaal heeft en buiten de Amerikaanse cultuur zit.
Zeepkist: Een doos waarop je op de straat op staat, terwijl je je verhaal probeert je verhaal kwijt te kunnen bij het publiek. Lees: protesteren.

Stembus: Vrije verkiezingen. Als de wetten en de volksvertegenwoordigers niet in het belang van het volk handelen, vervang ze.

Rechtsgang: Als geen volksvertegenwoordigers in het belang van het volk handelen, dan is het juridisch systeem de laatste verdediging, omdat het wetten die tegen de grondwet in zijn kan blokkeren.

Munitiedoos: Als het hele systeem zo corrupt is, dat het hopeloos is, en het is niet mogelijk om de wetten via de bovenste 3 dozen te veranderen, dan is er alleen nog een optie over.

We zijn op dit moment al aanbeland bij de 3e doos, en die begint zelfs barsten te vertonen.
De Piratenpartijen zijn bezig om de 2e weer werkend te krijgen, minstens in Europa. Het is een gigantisch karwei, maar het is mogelijk. De feiten wijzen daarop. Jammer genoeg zijn de machtshebbers een cultuur aan het kweken waar feiten en educatie gezien worden als geneuzel.
Beleid is contra-wetenschap geworden, en wordt voornamelijk gedreven door 4 belangengroepen, die elk niet willen dat feiten hun ideologie-religie beïnvloeden. De lessen geleerd tijdens de Verlichting worden steeds en steeds meer een obstakel. Informatie wordt gezien als iets
gevaarlijks
, terwijl het wordt verspreidt in een tempo wat nooit vantevoren is gezien. Misschien wordt het daarom als gevaarlijk gezien.
"Beware of he who would deny you access to information, for in his heart, he dreams himself your master."
– Commissioner Pravin Lal
Er zijn 4 belangrijke groepen die deze ontwikkeling stimuleren. Elk draagt op haar eigen manier bij, maar samen maken ze de perfecte storm om het schip van de vrijheid te doen kapseizen.
Technisch onwetende politici: Beleidvormers en mensen die besluiten maken die niet alleen de technische implicaties van hun beslissingen begrijpen, en zelfs trots zijn dat ze de infrastructuur van de samenleving niet begrijpen: Alsof ze dat als beneden hun niveau zien. Ze proberen ook een wit voetje te halen bij de andere 3 groepen door ze een dienst te bewijzen. Ondertussen pogen ze ook de weinige collega's die de gevolgen wel begrijpen te kleineren.

De Copyright Industrie: Deze industrie dreigt overbodig te worden door de kern van burgerrechten gecombineerd met hedendaagse technologie. Omdat technologie niet meer teruggedraaid kan worden, wordt het andere gesloopt.

Veiligheids Profiteurs: Een zeer klein groepje maken recordwinsten door onze burgerrechten kapot te maken. Kijk bijvoorbeeld aan de nieuwste scannertechnologie op vliegvelden bijv; die is er tenslotte gekomen om terrorisme te lijf te gaan. Het is hetzelfde type mensen dat oorlogen verzint om winst te maken. "Wie geeft erom als een paar honderdduizend mensen sterven." Namen zoals 'Halliburton' en 'Blackwater Security'.

Een mengelmoes van anti-vrijheidsfundamentalisten: Er is geen tekort aan mensen die ervan dromen om jou te vertellen hoe je moet leven. Het maakt niet uit als ze jouw vrijheid willen inperken of de waarden van het Christendom, Islam, Socialisme of enig andere externe levenswijze die zogenaamd alle antwoorden bevat; ze zijn allemaal één en hetzelfde. Het ergste type zijn diegenen die zeggen het "Voor de kinderen te doen", zoals ECPAT..
Als deze samenkomen, zijn deze de perfecte mix om wetten en beleid te maken die niet voor het publiek zijn, maar tegen het publiek terwijl ze alleen maar zeer kleine specifieke belangen behartigen. Deze wetten hebben geen problemen ermee om al onze vrijheden weg te nemen, van het recht op privacy en vrijheid, tot het recht van vrijheid van meningsuiting (Copyright Industrie), tot zelfs het recht van leven (Veiligheids Profiteurs). Voor dit is het nodig om een omgeving te maken die zeer vijandig is tegenover feiten en onafhankelijk onderzoek. Dit is al gedaan (lees: copyright industrie, en losstaand daarvan, 'terrorisme').
Een voorbeeld kan zijn dat je wetten structureert om te voorkomen dat mensen in herhaling vallen, of een ergere misdaad plegen. Hoe zwaarder het misdrijf, des te hoger de straf. Na herhaling, zal de straf nog hoger zijn. Een voorbeeld hiervan is dat Moord een veel hogere straf krijgt dan overval. En gecombineerd nog een hogere straf dan een van beide. Dit valt onder criminologie.
Recentelijk heeft de V.S. al de wetenschap hierover genegeerd, en heeft met 86 voor tegen 13 tegen gestemd voor een wet dat elk willekeurig persoon oneindig vastgezet kan worden, of zelfs geëxecuteerd, zonder een aanklacht. 86 tegen 13! Dat is wat ik bedoel met dat de V.S. al verloren zijn. Wat heeft het voor nut om zich aan de wetten te houden, wanneer, zelfs als je er goed aan houdt, je in de gevangenis gegooid en geëxecuteerd kan worden.
Zelfs als er geen showproces is?
Ik heb er gisteren over getweet, en noemde zelfs de '4e doos'.
Daarnaast, de vage term 'terrorist' wordt nu zelfs langzamerhand toegekend aan protesterende mensen en dissidenten. Mensen die niet met het establishment het eens zijn. De wet die recentelijk in de V.S. is aangenomen, geldt alleen voor terroristen. En tegelijkertijd worden protestacties zoals Occupy Wallstreet gecategoriseerd als 'lage-niveau terroristen'.
Er is geen rare gedachtegang nodig om te zien waar dit naartoe gaat
, zelfs terwijl veel mensen duidelijk beïnvloed zijn door
ongeloof
-- Puur weigeren om de gebeurtenissen te zien die recht voor hun ogen gebeuren. Zoals ik zei, de V.S. gaat een paar duistere decennia tegenmoet.
Laat mij een voorbeeld geven om de ernstigheid van deze situatie te schetsen. Wanneer wetten zoals deze in werking zijn, en een paar mensen zijn
verdwenen
. Als je dan een paar politiemensen achter jou aan ziet komen, is het logisch om ze vanaf een afstand te vermoorden. Er zal niks ernstigers gebeuren dan al te gebeuren stond, en het vergroot je kansen om te overleven en vrijheid te hebben. En mensen zullen snel samen gaan werken om dat precies te doen. Op dat moment worden wetten irrelevant; vindingrijkheid en intelligentie bepalen letterlijk of je leeft of sterft.
Tijdens de Arabische Lente, zag je op bijna iedere activistenfoto andere mensen met hun mobieltjes in hun hand. De 'brandstof' voor de revolutie bevatte niet alleen de 'brandstof' zelf, maar ook een instructie om meer 'brandstof te maken'. Dit werd allemaal razendsnel verspreid via internet, en daarom wilt een deel van de gevestigde orde koste wat kost controle hebben over het internet. Het is dezelfde reden waarom wij erom moeten vechten.
Ik geloof dat democratie het pad moet zijn dat zonder discussie gekozen moet worden, zolang er hoop is van vrijheid door democratie. Maar helaas, dat pad is aan het sluiten. En het wordt gesloten door onze volksvertegenwoordigers, namens bepaalde belangenbehartigers. Winst en fundamentalisme. Het pad is nog niet gesloten, maar er zijn vele actoren druk bezig het te sluiten.
Ik ben een blanke volwassen man in Europa. Een hoog opgeleide ondernemer. Zelfs bekroond als een van de beste denkers op de wereld. Ik schud handen met presidenten, kabinetsleden en staatssecrarissen over de hele wereld. Ik heb niks te vrezen als ik gewoon mijn gang ga. Logisch gezien zou ik een van de laatste moeten zijn dat het tot dit zou moeten komen.
Deze gedachte is niet zo huiveringwekkend als het verkeerd is, dan wanneer het correct is: mogelijk heb ik het verkeerd. Vele anderen hebben er waarschijnlijk over nagedacht, maar het niet gezegd. Als dat zo is, dan moet een groot gedeelte van de bevolking van het Westen gekeken hebben naar de Arabische Lente, en ondertussen zich mentaal hebben voorbereid om hetzelfde ook in hun leven te doen.
Sommige mensen denken dat Europa een baken van licht is, maar ook hier werken politici eraan om de V.S. in hun voetsporen te treden naar duisternis. Maar, Europa kan nog altijd gered worden. Activisme kan hier nog altijd een effect hebben, en zo ook politiek werk en protesteren op de straten. We kunnen dit terug draaien. Kunnen, en moeten.
Ik wil absoluut niet naar de situatie gaan die beschreven wordt in dit artikel.
Echt niet
. Ik vervloek de mensen die dit veroorzaken, en zorgen dat ik zo denk. Maar wanneer ik in deze situatie getrokken word na jaren van protest en hard werk, zal ik eraan aanpassen. Ik zal vechten voor vrijheid op elke manier dat ik kan, en ik zal anderen erbij helpen. Ik ben gegaan van mij mentaal voorbereiden, tot op de daad voorbereiden in het geval dat zaken echt een verkeerde wending nemen.
Het pistool en het doelwit op de foto bovenaan, is niet een gewone willekeurige foto zoals de meeste foto's op deze blog. Deze foto was genomen vanaf mijn bureau, een halve meter vanaf waar ik zit.